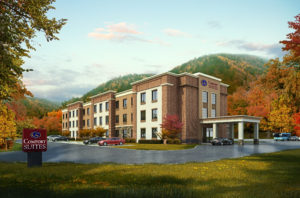 In December 2014, AEONN, LLC proposed an 85-room hotel located on an 11.1-acre site at 100 Estrada Road in the Village of Woodbury. KC is preparing the site plan and all associated documents and studies for the proposed hotel.
In January 2016, the Planning Board made a negative SEQRA determination, and a public hearing on the revised site plan was conducted for the project.
The lot is situated on the south side of Estrada Road and borders the west side of the NYS Thruway (I-87). While Estrada Road is not a county road and is not maintained by the NYSDOT as a component of the state highway system, it was designed and constructed by the NYSDOT as a state highway and was eventually designated U.S. Route 6 and operated as part of the state highway system until 1972.
KC prepared a Long Form EAF for the project including Parts 1 and 2. As part of the preparation of Part 3 with the Planning Board, KC prepared several supplemental studies. A habitat assessment was performed and provided to NYSDEC to confirm that, although the site was generally within areas of known habitats, no endangered species habitats were present. Wetlands were flagged and located on-site. A traffic study and pedestrian study were also performed for the project, to complete SEQRA and to satisfy public concerns.
The proposed hotel at 100 Estrada Road is a less intensive land use than many of the uses permitted in the Village IB zoning district. The proposed hotel will not alter community character as it is fully consistent with the Village comprehensive plan and will not have a significant negative impact on Estrada Road.